Are You Afraid Of Spiders?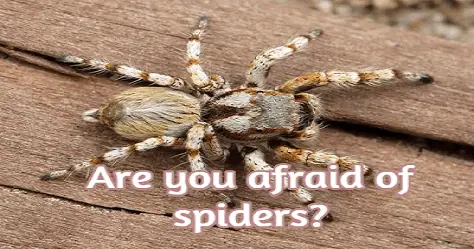 Are You Afraid Of Spiders
Spider Control!
If there's one creature alive that freaks us out more than any other it has to be….
SPIDERS!
Those little creatures that creep and crawl all over the place, it doesn't matter how small they are, most of us still freak out by the sight of them. Some of us cringe and run the other way, while others of us try and smash them.
Not all spiders are venomous and bad like the dreaded Black Widow Spider, but for the common person it's hard to decipher which are the poisonous ones from the ones that aren't, kind of like your common household roaming spider.
Movies like the old cult classic Arachnophobia doesn't help spiders reputation much either. There have been other movies which also make spiders look like the bad guys, and because of these spider control is at the forefront of many peoples minds.
Here's a couple videos of these creepy little things crawling around in places that we ultimately dread!
25 spiders that look scary but aren't really that bad!
It's no surprise that we're so scared of these guys, they range in size from small and scary to big and really scary! A few recent polls showed that people are actually more scared of spiders than they are of getting kidnapped!
I think it has to do with the large abundance of legs that they have and the way that they look. They have to look mean though, imagine being another insect or animal and seeing a spider coming your way.
Check out this video on WHY people are scared of spiders….
In this video you'll see a guy who gets what he's looking for in my opinion. Why bother a spider and not think it's going to attack you? If you're going to do this, at least wear long sleeves and a glove so you don't get bitten..
SMH…. But some people don't learn, maybe he learned his lesson after this one!
Spider attacks a man
If you see a spider and it's no where that you really need to go or be around, please just LEAVE IT ALONE! Now if it's somewhere that you need to go, kindly ask the spider to leave, lol…. yeah right.
Anyways just practice common sense when messing with our multi legged friends!
Source * http://www.iflscience.com/brain/why-are-we-afraid-spiders
FOLLOW US ON TWITTER >>>> https://twitter.com/StrangeNcreepy