A Terrifying Look At The Legend Of Hell Town,Ohio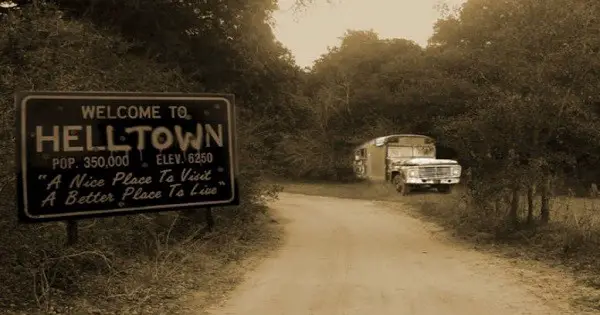 Now when you hear a name like Hell town, your first initial thought is that of a town that you probably wouldn't want to step foot in or anywhere near. But this town was nicknamed that after numerous stories of strange things happening there.
The town was  bought out by the government or some park service in the 70's, the area was supposed to be part of large national park project. The problem was that the plans fell through and the town was abandoned for pretty much no reason at all. Now when you a town totally abandoned, you're going to have all kinds of crazy stories popping up. 
Who knows what's true and what isn't, but what we do know is that the town is creepy! 
[wp_ad_camp_1]
Check the video out! 
 [wp_ad_camp_3]
There's different stories of escaped mental patients, Satanists, and other extreme groups that frequently visit the area. Some say there spirits that have taken over the area, and that the land was cursed and that's why the plans never fully took action. Anywhere you have a town that was left to rot you're going to have stories.
Some may be true; others may be wise tales to liven up the area a little bit. The strangest story I've heard is that there are mutant type people running around this area because of a chemical spill at some place nearby, and a tree that supposedly moves. As far as the stories go, no one really has any solid proof of anything going on. Maybe there are satanist and extremist type groups that frequently visit the area, but as far as moving trees and swamp thing type people running around there?
[wp_ad_camp_2]
Do you think the story is true?
The other story is that the creature or being by the name of "The Wendigo" is around this area. Just recently there was a documentary on television about this place. Now there has been some debate on how real the whole thing was, but who knows..
[wp_ad_camp_5]
Check out this video and see what you think.
Would you like to take an adventure to this place and see what it's all about? 
Would you stay the night in this places most haunted location?
CHECK OUT CHICAGOS MOST HAUNTED CEMETERY, >>> Bachelors Grove Cemetery
SOURCES 
Creepy Cleveland Net – https://www.youtube.com/channel/UC92d9i8QgcQTWZ_PrsIre-g   
Abandoneded therapy  –  https://www.youtube.com/channel/UCZ2v9H3NHGWzTkqINP1E21w