Good Luck Finding A Place That Isn't Haunted In This Old Western Town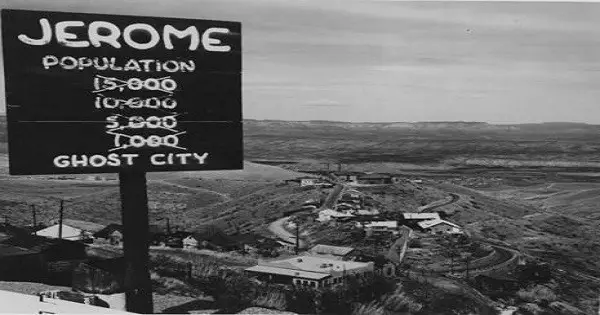 The Most Haunted Town In The West- Jerome Arizona
Certain towns have places that are haunted, like a school or old factory. Other towns are known for having multiple places that are haunted. But every now and then you run into a town like Jerome that's insanely haunted!
Jerome Arizona was a bustling town back in the 1920's, this was because of it's billion dollar copper mining operation. Everyone came to that town in order to work and find their riches, but with the large influx of people also came a bunch of problems.
It was dubbed "The wickedest city in the west" for good reason. The town pretty much shut down once the mines ran dry and everyone left, well at least the live ones ….
Today it's an artsy type of town, and most of its revenue comes from tourism. People come to check out the arts and crafts, but primarily people go there for one reason.
FOR THE GHOSTS!
This town has ghost sightings and reports of paranormal activity happening all over the place. It's not just centered around one area or one building, it's all the buildings and various outdoor locations.
Jerome is so haunted that they even have a newsletter by the name of the "Jerome Ghost Post".
Check out this video on this town.
Check out this video on more of the history of Jerome, Arizona
IF you're ever in this area, check this place out and let us know what you think.
Would you want to stay the night in this town?
BE SURE TO SUBSCRIBE TO OUR EMAIL LIST, WE HAVE SOME CONTESTS COMING UP SOON!
STAY TUNED!
source – CNN / Panavised