A Terrifying Look At The Worlds Most Haunted Doll – Robert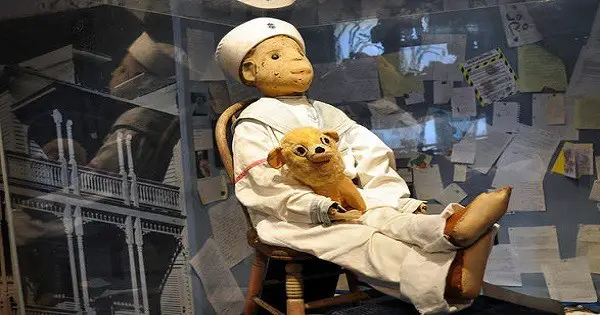 Robert The Doll



Imagine getting a doll as a gift that looked like Robert The Doll, would you be scared of it? Most people wouldn't think twice about the doll nor where it really came from. But if odd things started to happen when the doll was in your home, would you second guess keeping it or blame it on something else?
Robert The doll was created sometime around the late 1800's by a Haitian maid who practiced black magic; she was also one of the caretakers for the Otto family who were the owners of the residence in Key West, Florida.
The Otto family was a very stern, conservative, and super wealthy family, in fact they were the most wealthy family in the area at that time. They hired people of Haitian and Jamaican decent, so their beliefs and the Otto families beliefs conflicted on certain occasions.
One such occasion was when they found the maid practicing black magic, she was fired on the spot but not before she gave the young son Robert a doll by the name of ….. Robert the doll.
This is where the story begins….
Check out the video and see for yourself!
Would you keep Robert The Doll in your house?
Sources
UVU – https://www.youtube.com/watch?v=l4DIBTB9X0A
MrCreepyPasta – https://www.youtube.com/watch?v=l4DIBTB9X0A