The Haunted Hollywood Roosevelt Hotel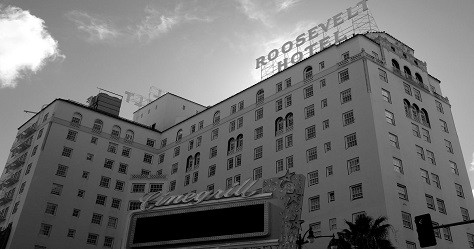 This place is famous for being haunted by the ghost of Marilyn Monroe, the Hollywood Roosevelt Hotel located in the heart of Hollywood, California and is the place where stars shine bright and dreams are torn apart.
The Hollywood Roosevelt Hotel was first opened in 1927 and it was the place to be. There were tons of celebrities and social elites that stayed in the hotel. From movie stars to political figures, someone with a name was always occupying a room. Now it wasn't all glitz and glam all of the years, the hotel suffered some disturbing things… It's been haunted since. 
The Most Haunted Place In California
Up until around 2004 the place wasn't what it used to be, but in 2005 major renovations happened and the Hollywood Roosevelt became a popular destination once again. With the incline of clientele came something else….the rise of reports of paranormal activity! 
Check out this video we found on the brief history of the Hollywood Roosevelt Hotel
Do you think the renovations woke up something or is it just displaced energy?
Could it just be imaginations running wild or actually something else, something real?
In this second video you'll hear more stories of paranormal activity, it's a pretty interesting video. I would like to check this place out, and will have to do my own investigation when I do.
Here's the second video….
Would you stay in this hotel?
*sources – http://en.wikipedia.org/wiki/Hollywood_Roosevelt_Hotel
Youtube-Unearthlytv's channel, Catwomanandharly