Toddler Gets Into Hair Removal Cream And Ends Up Looking Like Pennywise
Toddler Looks Like Pennywise
All kids especially toddlers love to get into anything and everything they can put their hands on. In this case, an 18-month-old was apparently trying to imitate her father gelling his hair. The toddler covered her hair with depilatory cream, it ended up leaving her with a huge bald spot. Somehow the toddler got away from her parents and had enough time to get the cream and smear it on her hair. Once her father found out he tried washing the cream out, but unfortunately, it was already too late.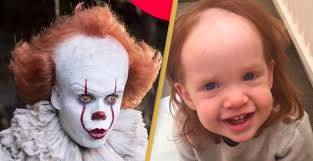 Part of the toddler's hair ended up falling out and the end product was a mini version of Pennywise the clown. The toddler's pictures ended up going viral on social media, and I'm pretty sure the mother wasn't happy at all with the end result.
According to the Daily:
Kirsty, who is a mother of three, says Maisie is in love with her new look. However, her concerned parents have tried hiding her bald spot by pinning hair across it. She said, "'I'd called Luke and he said "Maisie's got no fringe left", but the phone broke up, so I just thought she'd got hold of some scissors. When I got home I was just in pure shock. She came and gave me a cuddle and I just cried for an hour because I absolutely loved her fringe. Rather than just shove her under the shower, [Luke] ran her a bath, got her changed and it took about 10 minutes before he even thought about taking it off." @Source DailyMailUK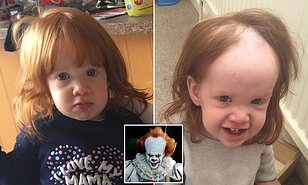 Do you have an idea or something for us to showcase? Know somewhere strange to stay the night or that you think we should look into? Have a creepy awesome service or strange carnival/tour you think we should write about? Want us to showcase your talent, pictures, or videos? Send us an email to Strangeandcreepy1@gmail.com.